Destination Reader
Destination Reader is a structured approach to the explicit teaching of reading.  The reading strategies used support comprehension and promote a rich reading culture using high quality texts central to the curriculum.  In lessons, children are encouraged to learn with independence based on learning behaviours and partner work.  The lesson comprises of the direct teaching of reading, high levels of talk and uses the domains of reading to enable a deeper understanding of texts.  Children delve deeply into the chosen text to instil a love of reading for pleasure.
Term 4 – Spring 2021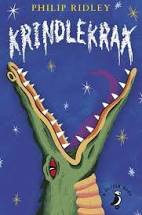 Krindlekrax
It was the day for choosing a hero.  Ruskin Splinter is small and thin.  The idea of him battling a dragon in the school play makes the whole class laugh.
But beneath the dark bricks and cracked pavements of Lizard Street lurks the mysterious Krindlekrax.  When Krindlekrax threatens Lizard Street, Ruskin has the chance to prove he really is the stuff heroes are made of!
Reading Workshops
We invited our Year 3 Parents and Carers in to join us for a destination reader workshop. Please find below the resources that were used during the session. We all had a fantastic time and are looking forward to doing it again in the near future.